Anytime rewards you for driving carefully
At Anytime we envision a world of safer driving and less accidents. With the innovative Anytime Smart Drive insurance program, we now reward your driving behavior and offer you discounts on your premiums. How? By creating the first insurance program that integrates with the Anytime Smart Drive Cyprus app on your mobile, which helps you rate your driving behavior and improve your driving. The safer you drive, the more you win!
How to join
Purchase the Smart Drive insurance program that suits you

Connect to the App and follow the instructions you will receive directly to your email
Get a quote
The Smart drive program is perfect for you if :
you consider yourself a careful driver

you're always seeking to improve your driving behavior

you are 18-30 years old, because Smart Drive rewards you from day one with a discount on your premium

you'd like to ensure additional discounts on your renewal, regardless of your age, just because you drive safely

you wish to enjoy rewards and surprises for your driving performance at any time
Once you choose the Smart Drive insurance program that suits you and activate the Smart Drive Cyprus app, you will get updated on your driving behavior at the end of each route, including the info below:
your general score 0-100
each route's details
your performance daily, weekly, monthly, and in total
You may also:
identify possible areas of improvement in your driving behavior
compare yourself to other drivers
The score for each route and the total score are calculated based on your driving behavior, meaning:
over-speeding
mobile use while driving
braking
accelerating
Exclusive discounts just for you depending on your score
You can get a discount on your policy renewal, valid for drivers 18-80 years old, with the condition that the application is used for at least 250 kilometers per month.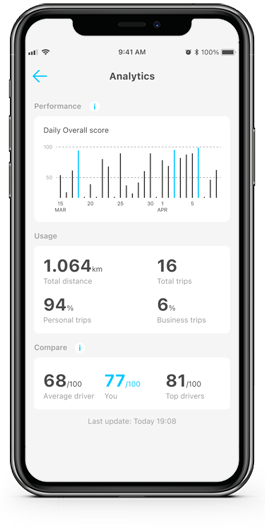 Don't forget!
If you are 18-30 years old, you get an additional discount on your premium the moment you purchase an Anytime Smart Drive insurance product. What's more, you can have a Full Comprehensive coverage even at the age of 23!
The Smart Drive insurance product is specially designed for individuals and does not apply to companies or business vehicles
Even more flexible coverage
Unique cover products to have the peace of mind and the security you need, every step of the way!
Economic
The ideal solution for the insurance cover absolutely necessary by law, including Road Assistance.
The covers in detail
Premium (Full Comprehensive)
The ultimate comprehensive coverage for your vehicle's full insurance. A complete insurance program with low excess, designed against all risk.
The covers in detail
Are you an Anytime
Smart Drive customer?
Activate your benefits correctly.